This Saturday is Feed Our Community Day! Come pack some meals for the hungry.
Posted Apr 9 2018 | Category:
News
This information was originally posted on April 9, 2018. Please note that the article refers to events from a previous school year.
This Saturday, April 14th is "Feed Our Community Day".
On Saturday in the Hauser cafeteria, we will be packing ten of thousands of nutritious "Meals of Hope" for hungry children and families.  This year,  Hauser PTO has partnered with Outreach, Inc., an international 501(c) 3 non-profit, to co-host a "Feed Our Community Day."  The meals packed,  will be delivered to the Riverside Township Food Pantry, the Salvation Army Red Shield Center Food Pantry in Englewood, and local residents in need.
Be a part of the wonderful gift of food.  Bring the whole family to pack meals for the hungry.  The event will run from 9am-5pm. You can select to pack meals from one of the four two hour shifts throughout the day.  Have a student who is looking for community service?  This is the perfect event.  Community service forms will be available for completion at the event.
SIGN UP TO PACK
Sign up to pack by clicking on this link:  www.feed6.org/hauser.
Can't attend but would like to make a donation.  Donate by clicking on this link: my.cheddarup.com/c/feed-our-community-day
SIGN UP TO BE A TABLE CAPTAIN
Would you, your student or both of you together like to be a table captain?  A table captain makes sure each of the packing tables runs smoothly.  It is a great leadership opportunity for your Hauser students.  If interested, sign up by clicking the link below.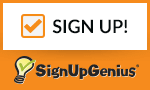 Any questions, contact Lisa Gaynor at ltgaynor@aol.com or Lisa Swicionis @ lisa.swicionis@gmail.com